The most important aspect of digital medical records is data flows along care pathways.  Despite all the political interest in care.data, and in secondary uses more widely, it is vital that clinically relevant medical information flows along care pathways where patients have not objected. It must be done consensually, safely, and transparently – and while the first two aspects of that considered in current implementations, they generally get stuck because there is no transparency in the system. Individual patient transparency should come via a data usage report, but that does not give the system an overarching view.
A systematic solution to transparency of the use of EHRs
For every organisation (or pathway, as relevant) that makes use of EHRs, there should be two figures added to NHS Choices:
% of inbound patients that receive records via EHR

% of outbound patients where records are sent via EHR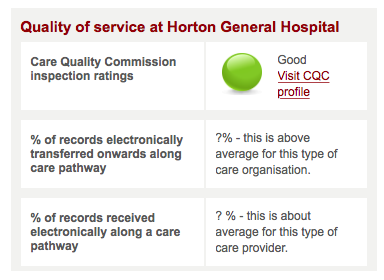 Created automatically off care provider systems, this should give a measure of how widely EHR transfer is used, rather than how often it could be used.
While a data usage report will tell an individual patient where their data has been used, this shows patients the level at which organisations are handing data off as patients move along care pathways.