The restart of NHS England's hugely controversial care.data scheme was announced on Wednesday afternoon, 10 June. Patients in one of the 'pathfinder' CCG areas (Blackburn with Darwen) may begin to be sent care.data "communications" [1] in as soon as two weeks' time.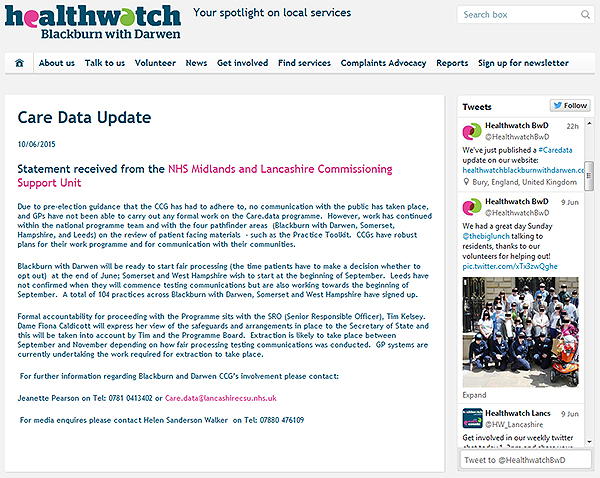 The "Update" on the Blackburn with Darwen Healthwatch website [2] states:
Blackburn with Darwen will be ready to start fair processing (the time patients have to make a decision whether to opt out) at the end of June; Somerset and West Hampshire wish to start at the beginning of September.  Leeds have not confirmed when they will commence testing communications but are also working towards the beginning of September.
It goes on to point out that:
Formal accountability for proceeding with the Programme sits with the SRO (Senior Responsible Officer), Tim Kelsey.  Dame Fiona Caldicott will express her view of the safeguards and arrangements in place to the Secretary of State and this will be taken into account by Tim and the Programme Board.
From the moment that "communications" begin to be sent out in each area, patients will have a limited amount of time to decide whether they wish for their identifiable medical information to be extracted from their GP record, or whether they want to opt out [3]. The Update indicates that patient data could begin to be extracted "between September and November".
This announcement has been made despite that fact that nearly a million [4] patients who opted out of the scheme over a year ago have not yet had their opt-outs actioned, while their hospital data has continued to be sold to third parties – including for "commercial reuse" [5].
Phil Booth, coordinator of medConfidential, said:
"It beggars belief that care.data should be restarted before the serious outstanding problems with the scheme have been fixed and, just as importantly, been seen to be fixed. The shambolic mess that care.data has become must be cleared up before another single patient is contacted.
"What are the million patients who opted out last year supposed to think? Their objections have all been ignored, so why should they or anyone else trust a zombie data grab that hasn't even got in place statutory backing for Jeremy Hunt's guarantee to patients, or defined legal safeguards promised last summer?
"NHS England must make good on every opt-out, and demonstrate that every last promise and safeguard is in place, or it'll show it cares more about getting hold of your most sensitive data than ensuring every use of it will be consensual, safe and transparent."
—
Notes for Editors:
medConfidential campaigns for confidentiality and consent in health and social care, seeking to ensure that every flow of data into, across and out of the NHS and care system is consensual, safe and transparent. Founded in January 2013, medConfidential is an independent, non-partisan organisation working with patients and medics, service users and care professionals.